Walk into any big-box store and you will most likely be able to tell what season it currently is, as well as which one is coming up. And if there is a holiday anywhere in the near future – that will be on full display! Christmas in July, anyone?
Wise marketers know that seasons impact what people do and buy. In similar ways, it is important to consider the seasons when using direct mail. Everything from color and themes, to the messaging, will make an impact on how the recipient responds.
Seasonal Styles and Messaging
When sending direct mail, the focus is typically on what is being sent and to whom; the when it is not usually high on the list of things to consider. Depending on the content, the when can be just as important as the what and whom. For example, a financial planner sending a postcard to advertise their services in December may not get a great response. During the holidays, people are more focused on buying gifts and spending time with family.
Spring
When you hear someone say "Spring is in the air" they are typically referencing something new or exciting happening; there is anticipation attached to the saying. Direct mail during the spring months should follow suit. Your print materials in the spring should have a lighter, airier feel and message. This is also a great time to promote summer events and sales as people are looking ahead and making summer plans.
Summer
Summer is similar to spring in that your print materials should stay light, bright, and lively. Summer mailings should be fun and informative. Don't miss out on sending out reminders for planned events – summer gets busy and a fun reminder is always a good idea.
Fall
Pumpkin Spice & Everything Nice! | Flannels, Boots, & Bonfires.
Happy Fall Y'all! | Alright fine, I'll say it…I hate pumpkin spice.
The fall season feels like its own marketing season. There are so many creative ways to play it up and capture the attention of your audience. Have fun with it by using rich colors, a little heavier paper, and content that ties to the changing season. If your organization is planning any holiday events, fall is a great time to send out that information; however, any major winter holiday events (like Christmas) or New Years can wait until late fall/early winter to send out.
Winter
Everyone gets bundled up as winter arrives. Depending on what part of the country you're in, that could mean putting on a light jacket or a full-out snowsuit. Whatever the weather is like for your audience in the winter, winter is a time when people are indoors more, and tend more time with family and friends. You can go with heavier paper and a cooler color palette. You can also opt for traditional holiday colors of green and red, or use metallics to spice up the season. can even add in some metallics to spice up the season. If you have major holiday events planned, remember to send out those mailers early in the season.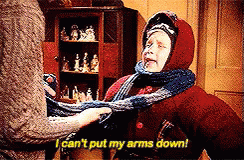 Schedule Delivery Date: Holiday Sales, Fundraising, and Elections
No matter if you are having a sale, holiday event, raising money, or campaigning for an election, when your seasonal postcard arrives in the recipients' mailbox can make an impact on the response rate. This is why SnailBlast gives you the ability to schedule your target in mailbox date for your mailings. This allows you to plan out your year in advance, create the postcards on your time and then schedule the delivery date(s). Additional services (listed below) are available with SnailBlast to allow you to create a more tailored experience for your recipients, which in turn increases your ROI, no matter what the season.
QR Codes allow your recipients to easily get additional information on a specific website or webpage
Delivery Tracking provides you with real-time data so you can follow up with recipients after they receive your mailer
Build A List lets you build a list of recipients based on demographic information that aligns with the reason you are contacting them (i.e.: if you are raising money for an animal shelter, you can create a list of all households that have pets in a certain area/region)
You run a specialty butcher shop. You know that Memorial Day and the 4th of July are huge days for your business. The challenge is knowing what types and cuts of meat to keep a higher inventory on, depending on the year, due to changing trends. You decide to run a sale of 15% off all pre-orders to encourage customers to order in advance. You design your postcard and include a QR code that directs customers to your designated online ordering page that automatically gives them a 15% discount on their pre-order. You then schedule the target in mailbox date for four weeks before each holiday. By utilizing the benefits of SnailBlast's all-in-one mailing service, you can get back to your business faster and with better results.
Sending out political mailers at key times during the year is critical to get the message out about a candidate, issue, or political party ahead of an election or fundraising push. You can use the same tools listed above for political postcards. SnailBlast's build a list tool is especially effective when sending out political postcards. You can use filters to find households that align with a candidate/issue or if a household has made a political donation in the past.
Another tool that can be helpful for political mailings is using Area Blast (EDDM) in SnailBlast. By using this tool, you can deliver your postcard to every address in an area or neighborhood for a reasonable cost.
Seasonal Mailing with SnailBlast
SnailBlast offers hundreds of postcard templates, with custom sizes, colors, paper, and more. We can help you customize your postcard based on the season and event. In addition, the additional services provided like QR code, tracking, area blast, list creation and more give you the biggest ROI while ensuring your marketing stands out from your competitors.
Check out SnailBlast today – remember you don't pay unless you mail.